Christmas without the magic duo of sweets are not proper Christmas … To be honest, melomakarona is the sweet that personally brings me to mind all this warmth of the feasts! At first bite, burst in your mouth all the fragrances of winter. Cinnamon and carnation, orange, cognac and honey … The recipe that I propose for this year gives you melomakarona crispy outside and soft in the center but not too syrupy. Get the materials and make them as long as you get ahead!
Melomakarona (traditional greek christmas sweet)
Print This
INGREDIENTS
for the sirup

○ 500 g water

○ 400 g Brown sugar

○ 400 g granulated sugar

○ 1 orange cut in the middle

○ 4 cinnamon sticks

○ 250 g honey

for the melomakarona

○ 250 g margarine

○ 330 g olive oil

○ 400 g Orange juice

○ 50 g powdered sugar

○ 200 g fine semolina

○ 1000 gr. flour

○ 1 tsp. baking soda

○ 3 tsp. cinnamon

○ 1 tsp. Carnation

○ zest from two oranges

○ 250 g walnuts
INSTRUCTIONS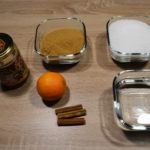 We begin the process of making melomakarona from the syrup. In a saucepan, place the brown sugar, crystallized sugar, cinnamon sticks, an orange cut in the middle and water and put the syrup to boil at moderate to high temperature. Once it begins to boil, count 5 minutes and remove from heat. Then add honey and mix to dissolve. Let the syrup aside to get cold.
---
---
Melt the margarine and add it in the mixer bin together with olive oil, caster sugar, orange juice, soda, orange zest and spices and mix at medium speed for 5 minutes.
---
In a bowl, mix the semolina with the flour, then add it to the mixture of liquids and knead quickly with your hands for 1-2 minutes. Caution! We do not knead too much dough because the melomakarona will become hard.
Weigh 30 or 40 grams balls of dough, depending on how big you want your melomakarona, and shape them in an oval shape without working  the dough too much and without pressing them too much because they will swell with baking.
---
Place them in a baking dish, make holes with a fork on their surface and bake at 170ºC, for 40-45 minutes or until they are golden brown.
Remove it from the oven and place it in the cold syrup for a few seconds, turning it on both sides.
Put on a platter and sprinkle with grated walnuts.
keep on with the same procedure for the rest of the melomakarona.
---
---
---
---
---
---