This dish, I know it may sound a bit complicated… But if you see it on its basis, it's just a pork stew cooked in a delicious sauce, accompanied with a vegetable purée … So don't be afraid, go ahead and try to make this recipe! It is a perfect choice for a  more special dinner, or for a Sunday lunch why not?  It is so delicious and impressive, without having to waste all your day in the kitchen! The meat stays tender, thanks to the slow cooking, the slightly sweet orange purée is really delicious, while crispy fried onions give this something more, both in texture and taste! Try it!
Pork fillets in Bourbon Sauce with Carrot Purée and Crispy Onions
Print This
INGREDIENTS
for the pork fillets

○ 1 tenderloin
○ 1 small onion finely chopped
○ 1 cup of teriyaki sauce
○ 2 bourbon shotes
○ 1 glass of white wine
○ 1 teaspoon of powdered ginger
○ 1 clove of garlic
○ 2 tablespoons of smoked balsamic cream
○ 2 tablespoons of honey
○ salt, pepper
○ 3 tablespoons oil

for the carrot purée

○ 350 g potatoes cleaned
○ 350 g carrots cleaned
○ 2 tablespoons of butter
○ salt, pepper

for the crispy onions

○ 1 small onion cut into thin slices or washers
○ 1-2 tablespoons of corn flower
○ Salt
○ oil for frying
INSTRUCTIONS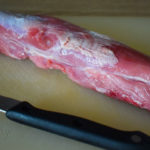 Start the process, cutting the tenderloin into slices of 1.5 cm. Place them on a cutting surface, cover with some wrap and beat them with the meat tool. If you don't have one, you can use the bottom of a pot. Season the fillets.

---
Grate a small onion. Put a non-stick cookware on the fire with 2-3 tablespoons of olive oil and place into the meat. When golden on one side,  turn them with a forceps to golden on the other side as well. Once golden,  remove them on a plate.
---
In the same utensil, place the onion and the garlic, and let it golden, then add the bourbon. Once the alcohol is evaporated, add the wine, let it boil for 1-2 minutes and then add the teriyaki sauce, ginger, salt and pepper.
Add fillets and a cup of hot water. As soon as the sauce starts to boil, lower the temperature to 5, cover with the lid and let the  meat to be slowly cooked until all the liquids be evaporated and the sauce starts to thicken.
This process will take about 90 minutes. Then add 2 tablespoons of smoked balsamic cream and 2 tablespoons of honey and stir until the sauce is as thick as you prefer it to be.
---
---
For carrot puree, clean and wash potatoes and carrots. Cut them into small pieces and place them in a pot with 1.5 liters of water, and 1 teaspoon of salt and boil them.
---
Once the vegetables are boiled, drain them from the water, and pulp them with a hand blender. Then add the butter and stir. Season.
---
For crispy onions, cut a small onion into thin slices, salt and add 2 teaspoons of water and 2 tablespoons of corn flower. Put a pan ful with plenty of oil to warm up, and fry the onion. Once golden browned, remove from the pan and place on absorbent paper.
Serve by placing a little pure on the side. Next, put some of the sauce, place 3-4 fillets, again a little of the sauce, and top with the crispy onions.
---