Our famous carrot cake, has conquer -not unfairly – a place in our hearts! Juicy and delicious, overflowing with aromas and flavors! So if you follow a vegan died, or if you want to try a healthier version of your favorite cake without animal fats, here's the recipe! Simple, with simple materials! Without dirty mixer, do the preparation in just 10 minutes and enjoy it! It's perfect to accompany your coffee! it's an ideal solution for a healthy snack at work, or school! Go ahead! Try my recipe!
Vegan carrot Cake
Print This
INGREDIENTS
○ 200 g. sugar

○ 60 g. sunflower oil

○ 200 g. orange juice

○ zest from an orange

○ 300 g. self raising flour

○ 1 tsp. baking soda

○ ¼ tsp. salt

○ 180 g grated carrots

○ 100 g. coarsely chopped walnuts

○ 1 tsp. cinnamon

○ 1/2 tsp. grated cloves
INSTRUCTIONS
---
In a bowl, place sugar, vegetable oil and spices and mix well with a hand whisk until the sugar melts.
---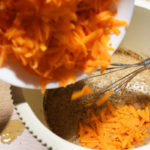 'Then add the juice and orange zest and continue stirring. In a bowl, mix the flour, baking soda and salt and add them to the mixture. Incorporate the flour and then add the grated carrot.
---
Finally add the walnuts and mix again. Transfer to an elongated form for cakes which you have first grew and bake in a preheated oven at 170 ° C on the resistors for about 45 minutes or until the cake is ready (depending on your oven).
---
---