You may expect this celebration comming… Again, you may be one of the opponents of this particular day and of the ideas that it states… Nevertheless, you can see it, as a further opportunity to express your love to your man! With all the intensity of everyday life, sometimes it is something that we put aside …This is not that bad what you say? And if you are not still convinced, just look at it, as a reason to bake and enjoy a delicious three-storey cake with vanilla buttercream! Don't tell me that I haven't convinced you yet? A delicious sweet can make the mood better, even for the most negative person… For those who celebrate…. Happy Vallentine's Day! Full of love and happiness!
Vallentine's Vanilla Frosted Cake
Print This
INGREDIENTS
for the Cake

○ 150 g margarine

○ 300 g sugar

○ 2 eggs

○ 270 grams flour

○ 2/3 tsp. baking soda

○ 1 pinch of salt

○ 170 g strained yogurt

○ 1 tsp. vanilla extract

○ 1 tbl. vinegar

For the Vanilla Frosting

○ 180 g butter

○ 350 g sugar

○ 300 g cream cheese

○ 1 tsp. vanilla extract
INSTRUCTIONS
---
---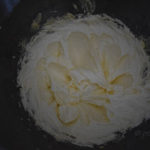 The mixer add sugar and margarine at room temperature, and beat on high speed. Once our mixture turns white and swell, add the eggs one by one and then the yogurt and vinegar and continue whisking.
---
In another bowl, mix all the solids. Flour, vanilla, salt and baking soda. Slowly with a silicone spatula, incorporate the solids into the butter-egg mixture with gentle movements.
Cover a round 24cm non-stick baking pan with non-stick baking paper, butter and transfer the cake mix there.
Bake at 170 ° C, on the middle grill, on the resistors for about 50 minutes. After 40 minutes check whether the cake is baked, sinking a toothpick into its center. (If dry out our cake is ready, otherwise continue baking until toothpick come out dry).
---
Continue with the preparation of buttercream, placing in the mixer bin, butter and sugar and tapping with the feather at a high speed until the mixture is dipped. Then add the vanilla and cream cheese and continue beating for a few minutes.
Transfer the buttercream into a clean bowl, cover with cling film and store in the fridge until you need it.
---
Once the cake has been cooked, remove it from the oven and let it cool down very well. Once it cools down, with the help of a saw blade cut the cake across three sections.
Assemble the cake by replacing the cake and buttecreams parts, leaving enough buttercream to cover the whole cake externally.
Decorate if you want with sugar paste, otherwise use colored sprinkles, grated biscuits, nuts or whatever else you like.
---
---
---