It's the most wonderful time of the year !!!!!!!!! It's the best time of year, isn't it? Christmas brings out our childhood! The waiting for their arrival, the decoration of the tree, the purchase of gifts, the preparation of sweets that fill the house with beautiful smells, the festive table! Oh, I really love Christmas! The truth is that fatigue is a bit biger these days, but the joy we get is definitely the biggest reward! Make homemade sweets together with your little ones, and give their unique memories! In this post I give you the recipe for traditional kourabiedes, a traditional greek cristmas sweet, that tastes like a butter almond cookie, covered with caster sugar. Like little snowballs! Build the recipe without fear! It will post the recipe for melomakarona as soon as possible!
Kourabiedes (traditional greek Christmas dessert)
Print This
INGREDIENTS
○ 300g butter

○ 200g vegetable butter

○ 50 g powdered sugar

○ 1 shot of cognac

○ 1 sachet of baking powder

○ 200g almonds

○ 900g flour

○ 2 tsp vanilla extract

○ 500g powdered sugar (for sprinkling)

○ Flower water (optional)
INSTRUCTIONS
---
Using the mixer, beat butter with margarine, which have a room temperature for about 50 min, until butter become white and fluffy like whipped cream.
Simultaneously roast almonds at low temperature to 150ºC for 30-40 minutes or until golden brown. Let them cool for 10 minutes and then grate them in the blender, into thick pieces.
---
Sieve the icing sugar and add it into the butter. Continue beating the mixture for another 10 minutes.
In a bowl we mix the flour, baking powder and vanilla and sift them too. Add to the butter mixture and continue beating for 2-3 minutes.
---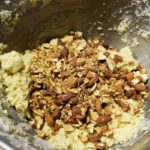 Add cognac and almonds and knead by hand to homogenize the ingredients. The resulting dough is like crumbs and does not stick to the hands.
Weigh dough balls of 25 grams each to make small kourambiedes, or 40 grams for larger. Mold into balls and do a lacquer on top to hold more icing sugar.
---
Lay them on a baking sheet leaving a small distance between them. Bake in a preheated oven at 170º C, for 35 minutes or until they get a golden color.
Remove from oven and let them cool very well. Then  optionally sprinkle them with flower-water and dump them in the powder sugar.
---
---