First of all, I would like to wish you a happy new year! I wish you for health first and foremost, and as many happy moments as possible, along with your loved ones! I wish 2018 to be a creative year, without any unexpected, unpleasant and foolhardy incident! And if it can not be the perfect year for all of you, I wish it will be at least a little better than the previous one!
And after the greetings, it's time to show you my recipe … I have salmon for you today, since that season, following the holidays, we all feel somehow the need to get fed better, healthier and light. So this is a perfect, light dish today, without leaving nothing to taste, I guarantee it! Make this salmon with orange and soy sauce, accompany it with a fresh salad of your choice, and enjoy without a guilt!
Salmon with Orange and Soy Sauce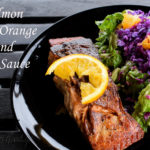 Print This
INGREDIENTS
○ 1 salmon fillet

○ 1 orange

○ 2 tbsp. soy sauce

○ Salt, pepper
INSTRUCTIONS
---
Wash the fish fillet well and dry it, tapping it on absorbent paper.
Scribe side of the skin in 3-4 points, becareful, the cuts must have approximately the same depth so as the fish to be cooked evenly. Add salt and pepper.
n high heat, heat a non-stick pan without adding any greasy substance. Once the pan burns well, put the salmon fillet on, from the side of the skin.
Lower the temperature to moderate to strong (7) and let the fish be cooked without being bothered.
When you see that salmon has changed color to the middle of its side surface (in about 5 minutes), turn it to get cooked on the other side. At this stage, add two slices of orange, together with their peel.
Once the salmon is ready, that is when it changes color throughout the side surface, remove the fish fat from the pan and add the juice of 1/2 orange and the soy sauce.
Let the liquids evaporate and serve with a fresh season salad.
---
---