I will not hide that this recipe was executed and photographed last year, but as my blog wasn't ready yet, I didn't manage to post it on time. However, I decided to post it this year, as the recipe is very easy and the result is absolutely impressive! With a few simple materials and a minimum of time, you can make a wonderful, edible, Christmas decoration that really looks so realistic that you will not believe that you have made it yourself! Decorate them on a tray and sprinkle them with icing sugar to make a snowy scenery, even offer them as a gift -somewhere you will be invited these days-. Try making these chocolate pine cones with breakfast cereal and you will surely impress your family and friends!
Chocolate Pine Cones
Print This
INGREDIENTS
○ 1/2 cup peanut butter

○ 1/4 cup hazelnut praline

○ 3 tbl. margarine

○ 1 cup of powdered sugar

○ 3 cups of chocolate cereal with half-moon shape
INSTRUCTIONS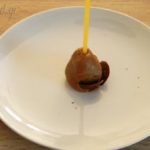 In a bowl, add all the ingredients together, except for the cereals, and work them by hand to form a paste.
Lay a small pear shape and pass a thick macaroni from its center, from which you can catch it so that you can easily place the cereals.
---
Place one by one round grains on the chocolate paste, starting from the bottom and continuing upwards.
Repeat the process for the construction of the remaining pine trees.
Place it on a tray and sprinkle with powdered sugar.
---
---