One of the most famous, light and delicious desserts, Millefeuille  is not by chance one of the most common choices to complete a pleasant meal! Thousand layers of crispy puff pastry, accompanied by a gentle, velvety cream with a fragrance of lemon and vanilla,  generously deccorated with lots of sugar. Can you think of something more ideal to fill out a rich menu? Unique limitation: Consumed immediately after preparation!
Vanilla and Lemon Millefeuille
Print This
INGREDIENTS
○ 1 liter of full fat milk

○ 100 g corn starch

○ 6 egg yolks

○ 270 g. crystal sugar

○ 2 tbs vanilla extract

○ zest of 1 lemon

○ 1 tbs butter

○ 250 ml cream (35% fat)

○ 1 package of puff pastry

○ icing sugar
INSTRUCTIONS
---
In a saucepan, add 750 ml of milk, half the amount of sugar, vanilla and lemon zest and heat them without letting them boil.
---
In a bowl place the yolks together with the rest of the sugar and mix very well with a wire until the yolks gleam slightly.
Then add the egg mixture to 250 ml milk kept aside and corn starch and mix well.
---
Once the milk is warm, but even before it boils, remove from heat and slowly pour it into the bowl with the eggs and corn starch, stirring along with quick movements.
Transfer the mixture back into the pot and stir continuously at moderate temperature until the cream has thickened. Once ready, add the butter and mix. Cover with a membrane that should fully contact the surface of the cream and leave aside to cool.
---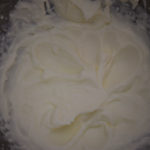 After several hours when the cream has cooled, beat the heavy cream with the aid of a mixer until it comes in a thick form.
Then beat the  patisserie cream with the mixer to soften. Then, with a silicone spatula, and with gentle movements, combine patisserie cream with unsweetened whipped cream.
---
Cut each puff pastry sheet into 12 pieces, put them in a baking pan, which is covered with non-stick paper, do holes in the puff pastry with a fork so as not to inflate, and sprinkle with powdered sugar.
Bake at 200ºC in the air until golden brown. Leave aside to cool thoroughly before passing to assemble the millefeuille.
---
For assembly of dessert initially placed in a dish a small amount of cream to stabilize on it the pieces of puff pastry. Then put 6 pieces of puff pastry, one layer of cream, and continue this way for three layers.
The last pieces of puff pastry crush them on the top of the dessert and then sprinkle with lots of powdered sugar!
---