Spring has come for good and the temperature has risen! The birds are peeping , the butterflies are flying, and the sun warms  body and  heart … Haha I became a little graphic, but the truth is that such days put us in the mood for country walks, for ouzo and coffees in  gardens and on balconies ! To accompany the coffee, I said before, here is the recipe for delicious cookies! With lemon and vanilla! Bouncy like the weather, and  fasting as required these days!
Lemon Crinkle Cookies
Print This
INGREDIENTS
○ 2 cups flour

○ 1 cup sugar and 2 tablespoons

○ 10 tablespoons margarine at room temperature

○ 1 Vanilla

○ 1 teaspoon baking powder

○ 1 and 1/2 tablespoon lemon juice

○ zest of one lemon

○ a pinch of salt

○ yellow food coloring (optional)

○ 1/2 cup caster sugar
INSTRUCTIONS
---
Melt the butter and add the granulated sugar, juice and lemon zest, vanilla, and baking powder and mix well with a hand whisk. At this stage if you want, add a few drops of yellow food coloring.
Then add salt and flour and continue stirring.
---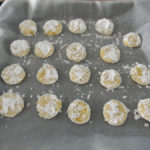 Once we have a soft dough, mold small biscuits. Pass them through the caster sugar, which you have put in a bowl.
Place the biscuits on a baking tray covered with non -stick paper.
Bake in a preheated oven at 180ºC for 15-20 minutes, or until golden brown.
---