The weather has warmed up enough, and after a walk under the bright sunshine, our desire for a cool ice cream becomes imperative! Who does not love ice cream? Kids, adults, even those who do not like sweets, can't resist to an ice cream! Buy some strawberries, -they are perfect in May- and make this recipe!
Strawberry Ice Cream with Biscuits and Hazelnut Praline
Print This
INGREDIENTS
○ 750g strawberries
○ 200g Strained yogurt
○ 2 cups of vegetable cream
○ 10 tablespoons of sugar
○ 130g Oreo cookies broken
○ 2-3 tablespoons of white hazelnut praline
○ 2-3 tablespoons of chocolate hazelnut praline
INSTRUCTIONS
---
Wash the strawberries and clean them from the stalks. Put them in the blender and slur.
In the mixer bin, place 2 cups of vegetable cream cold from the refrigerator as well as 10 tablespoons of sugar and beat at high speed until thicken.
---
Then add the yogurt and continue the bite until it is incorporated into the cream.
Finally we add the strawberry puree and continue beating until the mixture is homogenized.
---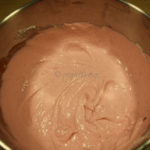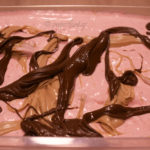 Break the oreo cookies into small pieces, add them to our cream and gently mix them with a ruber spatula.
Place the mixture in a container, proper for freezing, and on its surface 2-3 tablespoons white and 2-3 tablespoons chocolate praline.
Place in the freezer for several hours until ice cream is ready
---