If the classic chickpeas soup is not your favorite, or you 'd like to try a different version, more interesting and spicy, then make this recipe for sure! A delicious food, which may stand perfectly as a main dish, but also as a great snack for ouzo! Accompany with a refreshing yogurt dressing, diced tomato and green onion and the boost it!

Spicy Roasted Chickpeas
Print This
INGREDIENTS
for chickpeas

○ 400 gr. chickpeas

○ 1 large onion

○ 1/2 cup of olive oil

○ 1/2 teaspoon cumin

○ 1 teaspoon smoked paprika

○ 2 sprigs rosemary

○ juice of 1 lemon

○ 1 chilly pepper

○ 1 teaspoon paprika

○ Salt, pepper

For the dressing

○ 200 gr. strained yogurt

○ 1 tablespoon mayonnaise

○ 2 tomatoes into small cubes

○ 1 spring onion chopped
INSTRUCTIONS
Place in a bowl chickpeas to blow, twenty four hours before cooking them. In the pressure cooker, place chickpeas with 2 cups of water, chopped onion, 2 sprigs rosemary, salt and pepper and cook according to the manufacturer's instructions. Once ready, transfer to a baking dish.
---
Add the cumin, smoked paprika, lemon juice and chilly pepper and bake in a preheated oven at 200ºC, in air, until  the liquid has evaporated.
---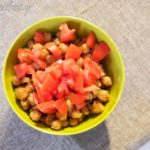 For the dressing, chop the tomatoes and onions. In a bowl, mix the yogurt with the mayonnaise. Serve by placing in a bowl chickpeas, after the tomatoes, the yogurt dressing and chopped spring onions.
---