A special dessert I have for you today … Snickers flavor mousse! And I say special because the combination of chocolate and peanut is not preferred by everyone … However, if you are a fan of this particular chocolate, you will definitely love this dessert, and you will not be able to stop eating it … At the bottom, soft peanut butter cream, then fluffy chocolate mousse, and on the top a layer of salty milk caramel …. Is there anything better for those who love the combination of salt and sweet?
Snickers Flavour Mousse
Print This
INGREDIENTS
for the salted caramel

○ 1 1/2 cup sugar

○ 1 1/2 cup milk

○ 1 pinch of salt

For the peanut butter cream

○ 2 tablespoons of peanut butter

○ 4 tablespoons of milk cream in thick form

○ 2 tablespoons of evaporated milk

For the chocolate mousse

○ 1/2 cup evaporated milk

○ 120 g dark chocolate

○ 160 g milk cream
INSTRUCTIONS
---
In a non-stick cookware, place the sugar and let it melt at a low temperature until it turns into caramel. At the same time  heat the evaporated milk. Once the sugar has been turned into caramel, add the warm milk and stir until it is homogenized. Finally, add a pinch of salt.
Transfer the caramel to a glass container to cool down.
---
In the mixer bowl, place the cream and 2 tablespoons of sugar and beat it at the beginning in moderate and then in high speed until it becomes thicker. Hold 4 tablespoons of the cream. (For peanut butter cream).
Melt in the microwave or in bain marrie  120 grams of dark chocolate with 1-2 tablespoons of evaporated milk. Let it cool for 1-2 minutes and add it to the cream. Beat with  the mixer at high speed until homogeneous. Add 1/2 cup evaporated milk and mix with a spoon gently until it is incorporated into the mousse.
---
In the cream that you have kept on the side, add two tablespoons of peanut butter and two tablespoons of evaporated milk and mix well with a spoon until homogenized.
---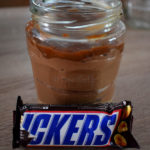 We go to assembling the dessert by placing in a bowl a layer of peanut butter cream, then a layer of chocolate mousse that will be the highest in proportion, finally a layer of salty caramel. Serve optional with pieces  chocolate snickers.
---