I will not hide that it was the first time I tried to make this recipe … Generally at home we like giant beans in the oven, and we cook them in many different variations, but this recipe seemed to me quite original and at the same time healthy and delicious! Their scent when baking  was amazing! Spinach helped to keep the legumes juicy enough and in combination with the melted feta, the result was unprecedented! Now you'll thing that it was just legumes, right? And yet I have to say that any food, if it is well cooked and delicious, is also worth my praise and excitement! Well let's leave the words and quickly catch the pots!
Giant Beans with Tomato Spinach and Feta Cheese
Print This
INGREDIENTS
○ 500 g giant beans

○ 500 g spinach

○ 2 medium dried onions

○ 2 cloves of garlic

○ 2 carrots

○ 1 tsp. paprika hot

○ 1-2 tsp. smoked paprika

○ 3/4 cup olive oil

○ 250 g feta cheese

○ salt, pepper
INSTRUCTIONS
---
---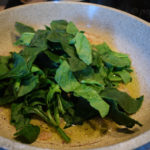 Soak beans in plenty of water for 24 hours before cooking them.
Drain the beans and put them in a pressure cooker along with an onion and chopped carrots, tomato juice, 1/2 cup olive oil, two cloves of garlic whole spices, and 2-3 glasses of water.
Boil according to the pressure cooker manufacturer's instructions for about 40-60 minutes depending on your cooker.
If the beans are quite juicy, continue their boil over high heat and open the lid of the pressure cooker so as the big amount of liquid to be evaporated.
Wash and spin the spinach. In a second pot, add the remaining olive oil and saute the second onion, chopped. Then add the spinach  stir continuously until all the liquids be evaporated. Add salt and pepper.
---
Transfer half of the giant beans to a baking pan. On the surface spread half the amount of spinach and half the amount of crumbly feta cheese. Make another layer, in the same manner.
Bake in a preheated oven at 200 ° C in air, until the liquids are evaporated and the surface is golden brown.
---