Needless to say anything when I present you such a traditional recipe of Greek Cuisine. The only choice for us is to follow the classic family recipe, passed  from generation to generation. Waking up memories of our childhood, we want to enjoy it as it is … No alternative choices, no developments … Pure and unaltered in the passage of time … With the help of my mother, I share with you, our family recipe for dolmadakia! Try to make this recipe! It is shocking!
Vine Leaves Stuffed with Spring Onions,Fennel and Rice (Dolmadakia)
Print This
INGREDIENTS
○ 115 vine leaves
○ 2 glasses of glutinous rice
○ 6 bunches of fresh onions
○ 1 bunch of fennel
○ 1 + 1/2 cup olive oil
○ 5 glasses of water
○ 4-6 lemons (depending on how sour we want them)
○ 1 onion
INSTRUCTIONS
---
Wash the vine leaves very well and cut their stalks. In a large saucepan, put water to boil, place inside the vine leaves, leave them for 1 minute and remove them. Repeat this process with all the vine leaves.
Let the vine leaves to cool down, as long as you prepare the filling. Clean, wash and finely chop the fresh onions. Chop the onion. Wash and finely chop the fennel.
---
In a wide and shallow pot, place 1/2 cup of olive oil. Once it is warm enough, add fresh onions and dried onion and stir until they have cooked.
---
Rinse the rice thoroughly, and add it to the pot with the onions. Add a little olive oil if it is necessary. Add 2 glasses of warm water and let the filling boil until all the water is evaporated.
Finally, add chopped fennel and juice from 3-4 lemons, salt and pepper. Attention, filling at this stage should be a little salty, as when the rice boils, it will come to the right saltiness.
---
---
After the filling has cooled slightly as well as the vine leaves, start the wrapping. Take one of the vine leaves, at the back side, place 1-2 teaspoons of the filling, fold inwards on both sides, so that the filling not to come out and wrap.
---
Repeat the process.
---
---
Keep the 15 leaves of the vine leaves without filling them, and place them on the bottom of a large pot. Then place the staffed vine leaves next to each other, covering the entire bottom of the pot. Next place a second row in the same way, above the first one.
---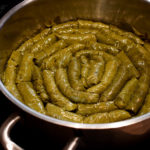 Add 3 cups of warm water, juice of 1-2 lemons, salt and pepper. Place a dish over the staffed vine leaves and start the boiling at high temperature. As soon as they start to boil, close the lid and lower the temperature to 5. Boil until all the liquids are evaporated.
---