Luncheon at home, as hosts, you want to impress your guests with every dish, but time is not your best ally … With simple materials, make this lovely, refreshing salad in no time! Impressive both in appearance and taste, it could be a wonderful companion in a meal and a lovely light dish for your wine!
fresh spinach salad with orange and cheese balls
Print This
INGREDIENTS
For the salad

○ 100 g. sesame

○ 100 g. feta cheese

○ 100 g. ricotta cheese

○ 120 g. spinach

○ 120 g. lettuce

○ 1 orange

For the dressing

○ 2 tablespoons balsamic vinegar

○ 2 tablespoons balsamic cream

○ 3-4 tablespoons olive oil

○ salt and pepper
INSTRUCTIONS
Wash baby spinach and lettuce and chop the second into chunks. Peel an orange and by using a knife cut fillets trying to remove most of the white skin.
Make our vinaigrette, mixing balsamic cream, balsamic vinegar and olive oil. Season the dressing.
In a bowl, place spinach, lettuce and the dressing and mix well to marinate all vegetables. Convey to the platter that will serve and adorn with orange fillets.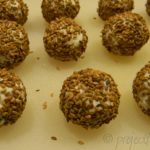 Bake sesame in the oven at 180 ° C until golden and draw their aromas. In a bowl, rub feta and ricotta and manually join the two materials. Conjure up into small balls and then cover with sesame. Finally place the cheese balls on the salad. Garnish with balsamic cream.