We are on Clean Monday, this day marks the end of the Carnival (a festive period before the Great Lent) and the beginning of the Great Lent, and in Greece we use to celebrate this day by consuming a multitude of fasting dishes! Seafood, halvah, and all sorts of salty and sweet delicacies, give and take on the Lenten table! However, for this day, the most famous delicacy is an aromatic sesame flat bread called lagana! Every year, when I started to stay with my husband, the two mums, my husbands and mine, used to make their appearance in the morning of that particular day holding a loaf of this kind of bread! This habit became something of a tradition to our family, ending up with two huge-sized laganas  and us,  already full from the bread at the lunch table! This year, I tried to bake my own lagana, so I did my tests, and I'm going to post a great recipe for you! Crispy, slightly sweet and fragrant! Bake it!
Greek Flat Bread - Lagana
Print This
INGREDIENTS
○ 600 gr. flour for all uses

○ 100+ 320 grams lukewarm water

○ 16 grams dry yeast (2 sachets)

○ 2 tsp. salt

○ 4 tbsp sugar

○ 1 tsp. honey dissolved in some water

○ 1 sachet machlepi

○ 3 tbsp olive oil

○ sesame for sprinkling
INSTRUCTIONS
---
In a bowl, add 100ml of lukewarm water, dissolve the yeast, add the sugar, cover with a membrane and leave it in a hot place for 10 minutes until the yeast is activated.
Preheat the oven to 60 ° C and once it has reached the temperature, turn it off.
---
Once yeast has risen, place the flour in the mixer bin, make a hole in the middle and add the yeast, machlepi and 3 tablespoons olive oil.
In 320ml of lukewarm water, dissolve the salt, and add it to the mixer bin.
Knead for about 10 minutes, using the hook, initially at low speed and then grow stronger.
Grease and flour a clean bowl and transfer into, the dough. It will be quite soft but don't be scared.  Use a little olive oil to grease your hands so the dough does not stick, and transfer it to the clean bowl. Sprinkle some more flour over and cover the bowl with a membrane.
---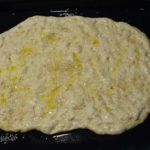 Place the bowl with the dough in hot oven and let it for 30-40 minutes until doubled in volume.
Grease 2 baking trays on which you will bake the Lagana breads.
Re-grease your hands, deflate the dough and divide it into 2 equal parts. Transfer each section into a pan and with your hands press the dough so as to be flat and take the familliar shape of lagana bread.
Dissolve 1 teaspoon of honey in a little warm water and rub it on Laganas. Sprinkle with sesame seeds and press with your fingers to create puddles on its surface.
Sprinkle with some olive oil.
Bake in a preheated oven at 200 ° C in the middle grill for 10-15 minutes.
---
---
---