No, it's not a cake … Or better it's not a sweet cake … Very light and refreshing, the salty cheese cake is a variation of our famous Ntakos, a bit more impressive and special. A base of Cretan barley rusk, cream of Katiki cream cheese and Feta and caramelized aromatic cherry tomatoes on the top! Serve it with a glass of wine, or even as a first plate in a formal meal. It's easy, fast, light and impressive! It meets all the necessary requirements for a summer dish!
Savory Cheese Cake
Print This
INGREDIENTS
○ 4 barley rusks

○ 1 Katiki cream cheese

○ 200 g of Feta cheese

○ 20-30 cherry tomatoes

○ 2 tsp. Brown sugar

○ 1 tbl. honey

○ fresh basil

○ 2-3 sprigs of fresh oregano

○ 1 clove of garlic

○ 10-12 tbl. olive oil

○ 4 tbsp balsamic vinaigar

○ 1 tbl. Capers

○ salt, pepper
INSTRUCTIONS
---
Using a blender crush the barley rusks, mix with the 10 to 12 tablespoons olive oil and 2-3 tbsp balsamic vinegar to take the form of wet sand. Spread the mixture into a round mold with removable bottom and pushing with a Spatula.
---
Place in blender feta and katiki and consolidating in a single cream. Spread the cream over the barley rusks base. Put the mold in the refrigerator for 30 minutes.
---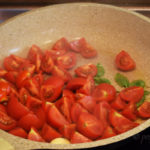 Wash the cherry tomatoes and cut into pieces. In a non-stick pan, put 2 tablespoons of olive oil, a clove of garlic, fresh basil and 1-2 oregano sprigs. Add the brown sugar and just beginning to caramelize add the cherry tomatoes, salt and pepper and leave to cook gently until the liquid has evaporated.
---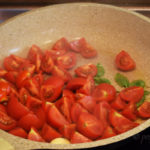 hen add 1 tablespoon of balsamic vinegar and a tablespoon of honey and allow a few minutes until the liquid has evaporated and the sauce has thicken. Once cooled, place them onto the layer of cream.
rinse the capers thoroughly and place over the caramelized cherry tomatoes. Finally, add some fresh basil and oregano leaves.
---