The week of  Tyrinis arrived, and traditionally in Greece, we make pies. And what other pie I could  present to you this week, except for Spinach pie. Aromatic, tasty, cheesy, crunchy, juicy, it is a good choice for breakfast, lunch, dinner, snack … I could for hours, as you understand, to exalt, as it is my own favorite! To keep it brief, just try!
Rustic Spinach Pie
Print This
INGREDIENTS
for the stuffing

○ 750 g. fresh spinach

○ 600 g. feta cheese

○ 2 chopped leeks

○ 2 chopped onions

○ 2 eggs

○ 1/2 bunch dill

○ 2 tablespoons olive oil

○ 1 teaspoon salt

○ 1/2 teaspoon pepper

○ 1 handful sweet trachana

○ 200 g. yogurt

For the pastry

○ 5.5 cups flour for all uses

○ 4 tablespoons olive oil

○ 1 tablespoon vinegar

○ 1 teaspoon salt

○ 1 teaspoon baking powder

○ 2 cups warm water

○ 1/2 cup olive oil tea

○ 3/4 cups margarine melted

○ cornstarch (for pastry rolling)
INSTRUCTIONS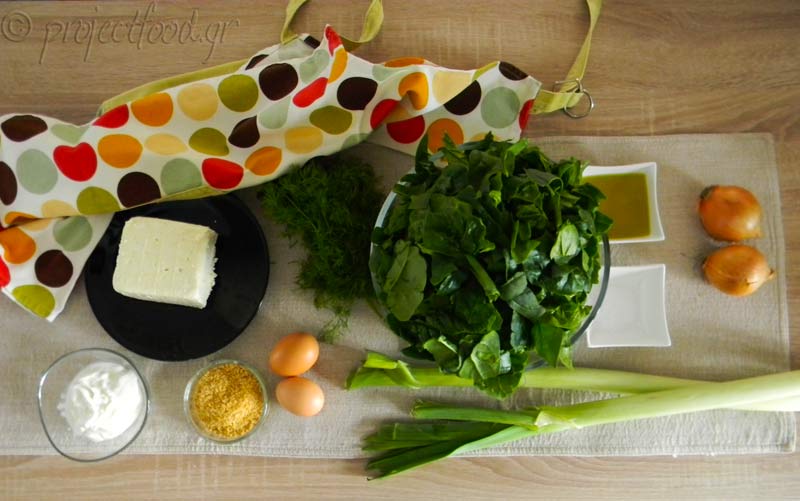 ---
Wash, clean and chop spinach into chunks. Then place them in a colander and let them drain. Chop the onions, leeks and dill. In a large saucepan, add the leeks and onions, along with two tablespoons of olive oil and some water and steam them. Once they are soft enough, add the spinach and season. Stir constantly until all liquids be evaporated.
---
Finally add the dill and let the stuffing cool. After having come to room temperature, add the yogurt, eggs, trachana, pepper and the half quantity of the cheese and stir.
---
We make rustic sheet for pie according to the recipe: pie pastry. After pave the large baking oven pan, spread on it the stuffing of the pie. Place over the stuffing, the remaining half of the cheese, cut into chunks. Cover with the top sheet.
---
Roll the left over edges inwardly. Draw the pie into pieces and coat the surface with oil. Bake in a preheated oven at 170ºC in air, for about one hour or until golden brown. In between baking time, coat the pie with oil once again.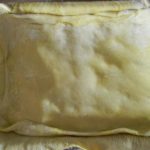 ---