For those who don't know it, granola is a mixture of cereals, usually oat rollsl, along with various nuts and dried fruits. All these beneficial  ingredients, bind to each other with warm honey and baked in the oven to form  small crispy masses of energy! As you can understand, granola is an ideal choice for your breakfast, as it supplies the body with all the necessary elements for a dynamic start of the day! Combine it with yoghurt or milk and enjoy!
Breakfast Chocolate Granola
Print This
INGREDIENTS
○ 2 cups of oak cloth
○ 2 cups puffed rice
○ 1 1/2 cup of whole grains cereals
○ 100 g margarine
○ 1 cup of honey
○ 100 g Mixed nuts (hazelnuts, almonds, sunflower seeds)
○ 1/2 cup dried cranberries
○ 2 teaspoons vanilla extract
○ 1 pinch of salt
INSTRUCTIONS
---
Place the nuts on non-stick baking paper and place in a preheated oven at 180 ° C in air for a few minutes until golden brown.
Let them cool for a while and then break them in moderate sized pieces.
---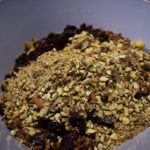 Put the honey in a saucepan and melt it at moderate temperature. Add margarine and mix it well with honey.
---
In a bowl, mix all the solids together and then add the mixture with honey and margarine. Stir all the ingredients together, lay them in non-stick paper and bake in the oven at 180ºC in air for 10 minutes.
Remove from the oven and let the granola cool down, stirring intermittently with a spoon.
Once the granola cool, store in airtight jars.
---