Already from the title, you caught the hint … Fasting continues, and I continue to upload fasting delicious recipes! Certainly it is not necessary to be in fasting to enjoy these recipes, as they are delicious anyway! Great way to make chickpeas, especially if you don't love the classic soup, the falafels, can be served as a snack, on sandwiches, in Arabic pie, or even as a main course as they are quite hearty. On days of fasting, when we need something hearty, and the continuous carbohydrate consumption makes us constantly hungry, the falafels are a great choice!
Falafels
Print This
INGREDIENTS
○ 2 cups cooked chickpeas
○ 1/2 bunch chopped dill
○ 1/2 bunch chopped mint (or a teaspoon dried mint)
○ 2 spring onions, chopped
○ 100 g. tofu
○ 1 chopped tomato
○ 2 tablespoons olive oil
○ 1 teaspoon paprika
○ 3-4 tablespoons corn flour
○ salt- pepper
○ 1/2 cup corn flour for covering
INSTRUCTIONS
---
On the previous day we put the chickpeas in a bowl of water to swell. Drain and rinse under running water, rubbing them with our hands to be peeled as much as possible. Place them in a pressure cooker, add only salt and cook according to the manufacturer's instructions.
When chickpeas are ready, drain them, measure a quantity, equal to two cups of tea and set aside to cool.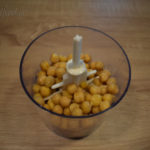 Chop green onions, tomatoes, dill and mint. Place the chickpeas in a blender with 2-3 tablespoons of olive oil and mash.
---
In a bowl, place the pureed chickpeas, onion, tomato, herbs and spices. Add grated soy cheese and a few tablespoons of corn flour and stir. Our mixture must be tight and easily molded by hand. If needs, you can add a little more corn flour.
---
Shape into balls and pass through cornflour. Fry in plenty of olive oil, turning our falafels to fry on both sides. When they are ready, place them on absorbent paper for a few minutes and then serve.
---