Sun, balcony, some wine and good company are the ingredients for a perfect day! And as known, food brings us closer! Invite your friends a sunny noon, and enjoy together this wonderful homemade food. Octopus is a very tasty sea delicacy! Combine it with macaroni and lovely tomato sauce, and wake up all memories of their childhood!
Octopus with Pasta
Print This
INGREDIENTS
○ 1 kilo octopus

○ 1 1/2 cup tomato juice

○ 1 large onion, chopped

○ 3 bay leaves

○ 6-7 allspice berries

○ 1 tablespoon sugar

○ 1 cup (250 ml) red wine

○ Salt, pepper

○ 400 g. macaroni

○ 1/2 cup olive oil
INSTRUCTIONS
---
Wash the octopus, cut off the rinds as well and cut it into large pieces. Chop and sauté the onion, then add the octopus and stir for one minute. Add the wine, wait for 1-2 minutes to evaporate the alcohol and continue adding tomato juice, herbs, salt and pepper. Boil, without the addition of other liquids in kettle, according to the manufacturer's instructions.
---
After the required time, open the pressure cooker, remove the octopus and cut it into pieces.
---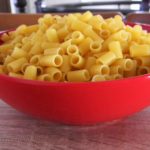 In another saucepan add the pasta to boil. 2-3 minutes before pasta is ready, drain  and place it into the sauce, which have in boiling temperature. Boil for 2-3 minutes, stirring constantly. Finally we add the pieces of octopus.
---